Hair is vulnerable to any & everything and once the hair has lost it's natural hair structure alignment which is the core protection of your hair and which it plays a major role in the overall growth and health of your hair that can become affected physically or chemically by the vulnerability of your hair after the alteration of your hair's natural structure that has been abruptly changed that will soon become even more vulnerable & altered by poor diet, medication, smoking, stress, diseases of the scalp, as well as lost of color the hair melony gradually disappear (gray hair) which makes your hair vulnerable along with being resistant to any and everything.
But when those three layers of skin serving as protection becomes extremely damaged you will begin to loose both your porosity& elasticity as well as your hair's natural conditioner "Sebum" then you are also going to loose your hair's moisture loss all at the same time then you know that you may have cuticle damage the inner atmosphere of your hair structure and this will cause your hair to become brittle, dull, increase number of split ends, excessive tangles, fly-away fibers, lack of body from exposure to your environment, mechanical manipulations, chemical process, thermal styling, and of course shampoos and once your hair is damaged there is no real way to completely restore your hair which makes hair unique and give your hair its characteristic of being the only body structure that is completely renewable without scarring meaning you can cut all the damaged areas of your damaged hair ridding your damaged hair.
There are numerous ways of making your hair feel and handle more like healthy hair and that's when "Conditioners" comes into play by having a major role in delivering the necessary protein, keratin, binding agents that adheres to the cracked frayed broken spots in the hair structure delivered to add back the strength and elasticity in your hair, your hair natural pH balance and porosity, as well as deliver your hair's moisture to your dry hair as it helps to detangle your hair, help protect against thermal and mechanical damage all while imparting sheen while giving your hair a soft texture and there are around nine different and various kinds of Hair Conditioners ranging from your Leave-In, Reconstructor, Deep Penetrating/ Intensive Repair, Moisturizers, Laminates, Thermal Styling/Blow Drying Lotion, Finishing, Pre Chemical, and your Post Chemical Conditioners all made and designed to do a job for your hair and its structure.
Leave In Conditioners are quite excellent because they leave your hair super soft and amazingly touchable, without making it heavy or weighing it down. Leave In's does so much more than just leave your hair conditioned, shiny, and beautiful it can be used to tame any frizz or fly-away ends ...
Reconstructors are heavy duty conditioners designed especially for severely damaged hair and they typically contain micro and macro proteins to fill the cracks and ruptured areas on and within the hair shaft and they may also contain polymeric agents that tightly bind the structures of the hair shaft together for the purpose of fortification and compatibility...
Moisturizing Conditioners hydrates dry brittle hair and correct moisture imbalances while helping to seal in the necessary moisture your dry damaged hair needs to quench your hair's thirst and leaves hair soft, silky, and with an irresistible touch.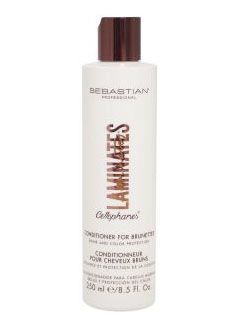 Laminate Conditioners is designed for three things for the hair (a) to seal the cuticle layer for a glossy sheen, (b) made for easy combing, and (c) ward off style wrecking effects of humidity.
Thermal Styling/ Blow drying Lotions are designed to use prior to heat styling and these conditioners help protect the hair from heat damage and it also help reduce the force required to comb or brush the hair during blow-drying while providing sheen and eliminate static charge.
Finishing Conditioners includes natural oils, crèmes, mineral-oil based hairdressing, oil sheen sprays, and laminate sprays and these products are used to enhance sheen, manageability, and the are sometimes used to lubricate the scalp.
Pre Chemical Conditioners are sold as integral of some relaxers system and are especially formulated to deep condition and repair the hair during chemical processing depending upon the brand and a pre chemical conditioner will also leave the hair with an extraordinarily silky texture and luster....
Post Chemical Conditioners work to sustain and augment the deep conditioner treatment that the Pre chemical Conditioner effected and they also help normalize and rebalance the pH of your hair.....