Different Unisex Shampoos



What is Shampoo?
Shampoos are designed to clean the hair and scalp of grime, dust, oil, and dirt so you may have to experiment with many different types of shampoos from
Healthy Hair
Plus
to find which one performs best for your hair type and texture. There are so many different kinds of shampoos to choose from and there is also shampoos gentle enough to use daily which will actually improve the condition of your hair type and texture.
How many kinds of shampoos are there?
There are two different kinds of shampoos and they are your
Sulfate Free Shampoo
(above) & your
Sulfate Shampoo
(below). Your
Sulfate Shampoo
is a common ingredient found in personal care products such as soaps, shampoos, detergents, and toothpaste. This highly effective foaming agents (Sulfate) is chemically known as a surfactants. Sulfate Shampoos and personal care products can be very dangerous for the hair and skin with its highly irritating chemicals that will not give your hair that shiny and healthy looking hair even though they are much more sudsier than other shampoos and beautiful skin far from it your skin will not be it can lead to direct damage to the hair follicle and to the skin, permanent eye damage in children, as well liver toxicity. On the other hand your
Sulfate free Shampoos
are more of a healer to the hair and scalp while rejuvenating the hair and scalp as it gives the hair a more healthier and shiner look.
Sulfate Free Shampoos
contains a milder surfactant that cleans the hair and scalp without causing hair damage and skin irritation. Most Sulfate Free Shampoos contains natural and organic ingredients which makes it free of parabens, phthalates, DEA, MEA, TEA, petrochemicals, synthetic dyes and fragrances something that every woman or man with colored, perm, curly, damaged, dry, relaxed, or keratin treated hair should use in order to see and feel the difference in your hair.
What are the different types of Shampoo?

Of the five types of Shampoos which one works best for your hair type and texture?
Normal hair: this hair is neither prone to oiliness or dryness how lucky are you who has normal hair all you have to do is continue to take care of your tresses with quality products that keep it clean, conditioned, and protected from environment damage.

Combination Hair: this hair shows signs of oiliness around the root area and the ends of the hair remains dry and the oiliness can be caused by overuse of conditioners and styling products as well as by humidity and pollution.

Oily Hair: this hair looks oily, dull, and dirty along the length of the hair-shaft. To check to see if your hair is oily rub your fore-fingers along your scalp gently rubbing then rub your thumb and fore-finger together and if it feels slippery then you have an overactive sebum glands causing you to have an oily scalp.

Dry Hair:

this hair will look dull, lifeless, and parched at its worst and it may look frizzy and fuzzy as well as straw-like. Your scalp may look like it has white flakes, small powdery flakes and this may be that they are often the result of stress, too much alcohol, or tiredness however if the flakes are larger and more translucent as well as moist then you could have dandruff being caused by an over production of sebum in the hair follicles rather than the scalp.

Chemically Treated Hair:

this hair is when coloring, perming, relaxing, or environmental process change the make up of your hair permanently even though these chemicals may be more gentle than ever. Chemically treated hair needs more support with rehydrating shampoos and conditioners that are specifically designed for this hair type and be sure that the products you choose contain sunscreen to protect your hair from damage caused by ultraviolet light to help keep your chemically colored treated hair looking fresher longer.
How often should you Shampoo your hair?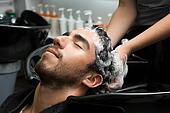 The cleaner the hair is the happier the scalp is and clean hair is healthier, strong, luxurious, and shiner. You should shampoo your hair regularly with a professional quality base shampoo from
Healthy Hair Plus
that is suited for your hair type and texture and that will also invigorate the scalp leaving the hair healthy, stronger & shiny. Remember that professional products are more concentrated so you will use less and also remember that there are some shampoos that can be used on a daily basis and those shampoos should help your hair remain healthy and shiny.